In this video, I'll explain what affiliate marketing is, and I'll explain the four steps it takes to be a successful affiliate marketer.   I'll also give you information about Wealthy Affiliate, the company that taught me how affiliate marketing works and how to be a full time affiliate marketer (they have a free training program!)  Thanks so much for watching!  Debra 🙂
TO READ THE ARTICLE DISCUSSED IN THE VIDEO, CLICK HERE:
https://workathomeonlineforfree.com/how-affiliate-marketing-works-wealthy-affiliates-4-easy-steps
TO SIGN UP FOR THE WEALTHY AFFILIATE FREE STARTER MEMBERSHIP, CLICK HERE:
https://workathomeonlineforfree.com/WealthyAffiliate
TO SIGN UP FOR THE WEALTHY AFFILIATE PREMIUM MEMBERSHIP, CLICK HERE:
https://my.wealthyaffiliate.com/upgrade/a_aid/695bae5fhttps://my.wealthyaffiliate.com/upgrade/a_aid/695bae5f/data1/YouTubeUpgradePage
TO READ MY FULL REVIEW OF WEALTHY AFFILIATE, CLICK HERE:
http://workathomeonlineforfree.com/wealthy-affiliate-review-facts-details-and-the-catch
TO SUBSCRIBE TO MY EMAIL LIST, CLICK HERE:
https://forms.aweber.com/form/97/1060315697.htm
What is Affiliate Marketing?
Affiliate marketing is where you sign up with a company to be an affiliate for them and they give you affiliate links to use to refer people to their products or services.  Many affiliate marketers are an affiliate for Amazon.  As you know, there are millions of products available for sale on Amazon.  Once you have a website, you can apply for free to become an affiliate for Amazon.  Then, you choose which products you want to sell on your website.  You look up those products on Amazon, and you're given an "affiliate link" for that product, which you then paste into your website.  When people click on your affiliate link and purchase the product from Amazon, you get a commission.
How Does Affiliate Marketing Work?
How affiliate marketing works can be described in four steps:
Step 1:  Pick a topic.  Pick something that you like that would have products or services that you can sell.  For example, are you a Yankees fan?  You could set up a website that promotes Yankees stuff like t-shirts, mugs, etc.  You can be an affiliate for Amazon, and insert links to Yankees stuff for sale on Amazon within your website and make commission.  See what I mean?
Step 2:  Create a website.  Like I talk about in the video, Wealthy Affiliate has a free training program where they will teach you, step-by-step, how to set up a website.
Step 3:  Get visitors to your website.  This is called "traffic."  You can have the greatest website in the world, but if you don't have traffic…if no one ever sees or visits your website…then you can't make any money.  Wealthy Affiliate teaches you the many ways to get traffic to your website.
Step 4:  Make money!  Write articles, do product reviews, create videos – all ways of creating posts on your website where you can insert those affiliate links and make money!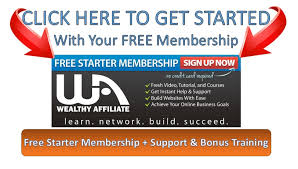 Questions?
I hope this video and article have answered your questions.  Please feel free to comment below if you need more information.  Debra 🙂