I quit my job on December 31, 2007 to work from home, have my own business and get the heck out of the rat race! I had a good job – civil service, great pay, outstanding benefits – so it was beyond scary to give it up.  Especially since I was divorced, living alone, and solely responsible for supporting myself.
For three years prior, I searched for ways I could work from home. I found all the typical ways to make money online like getting paid to answer surveys, selling an Ebay, Amazon – freelance writing, even shopping for income. Finally I settled on Ebay. I like girl-stuff like makeup, jewelry, handbags and skin care.  So that's what I chose to sell.  I'd buy out large inventories of products, then sell the items individually.
It worked.
My Ebay business was successful and supported me for eight years.  I have to say I really liked it – it was fun owning my own business, working at home in my pj's – running my own schedule, being my own boss.  I knew early on that I'd never work for anybody again – I'd always have my own business.
Then along came Leo.
I met my husband Leonardo in 2012 and my life changed.  Several months after meeting, we moved in together, and eventually got married in 2015. What changed was the fact that for 13 years prior, I had lived alone.  That meant it didn't matter when I worked.  My business was such that I could work anytime I wanted, day or night.  So, for example, if I wanted to go do my grocery shopping or have lunch with a girlfriend on a Tuesday afternoon, I could do that – then just finish my work later in the evening.  But when Leo came along, I found I wanted to be "off" when he was.  I wanted not only to be done with work by the time he came home every day, but I began to loathe the fact that I was working on weekends.
My Ebay business was so successful and did such a large volume, that it was necessary for me to do shipping at least six days a week, seven during the holiday season.  I wanted weekends off to spend with Leo.  Also, taking a vacation when you're a high-volume Ebay seller is difficult.  Since I was a one-woman show, there was no one to do the work and keep my sales/shipping/income flowing if I wanted to go away.
So, suddenly my job wasn't working for me anymore.
About two years earlier, I had come across the concept of affiliate marketing – where you have a website, you become an affiliate for a company – then you put their advertisements on your website and you get paid a commission every time someone buys something using your website/link.  I played around with it a while – did some affiliate marketing training online, but I was unable to be successful at it.  I just didn't know what I was doing.
Finally, in August of 2015, I searched for more affiliate marketing training.  I knew that affiliate marketing was the thing that would accomplish all of my requirements as far as what I wanted to do for a living:  having my own business, working from home, making money online, having unlimited income potential, setting my own hours, and being able to travel.  So I really (really really) wanted to figure out how to do it and actually be successful at it. That's when I found Wealthy Affiliate.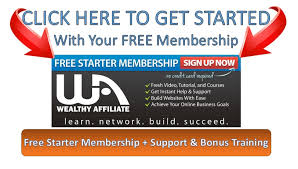 Wealthy Affiliate is a company that TEACHES you how to become a successful affiliate marketer.  And what I liked most was the fact that there were so many training classes available for FREE.  These guys are smart – they go ahead and give you a ton of training – get you interested and educated and actually seeing fantastic results – before they ask for a dime for their time and effort.  I was so impressed by that. They have gone way above and beyond the "try before you buy" concept by really letting people not only get their feet wet – but they let us swim in their pool for months on end, learning all kinds of stuff – for FREE!
I watched training videos for several weeks for free – started my own website for free – learned how to create valuable content, how to add affiliate links to my site, how to find and apply for affiliate programs.  All for free. It really was amazing.  The training videos were so fun and easy – very simple, step-by-step training.  I loved it!
Now I'm an Official Affiliate Marketer
I eventually signed up to be a Premium Member at $47 per month.  That is not required, but by that time I knew I'd found my  new career and I wanted access to more and more training and wanted to be a full member of the Wealthy Affiliate Community. You get a huge discount if you pay annually, which I decided to go ahead and do just last month (now it works out to less than $25 per month…the question/answer section on the site alone is worth ten times that!)
I have no doubts about this whatsoever.  My website is fantastic, and I love working on it.  I love the subject I chose to focus on (pets!) – I love the interaction with my visitors.  And most of all, I cannot believe that not only do I get to work from home, set my own hours and be my own boss, but I get to do something I love, which is helping animals!
You Can Do It Too!
If there is something – and I mean anything at all – that you really love – chances are you can create a website around it. This can be a part time job or a full time job, whichever you prefer.  You can have your very own website, which can be as big and as busy as you like, or as small and easy-to-handle as you like.  It's all up to you.
If you can send an email, you can learn this.  It really is fun and easy.  Make a list right now – get a piece of paper and a pen – and make a list of your hobbies and interests.  I bet by the time you write down less than three things you'll have the perfect idea for a website!
CLICK HERE to read my review and sign up!
If you've ever wanted to have your own business and work from home, this is worth checking into.  I've been working online for years, and I can tell you, this is top-knotch.  Imagine actually liking your job…hey, there's a concept!!!!
Please comment below to let me know what you think, and feel free to ask me questions…I will respond!  And please keep me posted on your progress!
Best of luck and good fortune,
Debra