Creating a Profitable Affiliate Website from Scratch.  In this 5-part training series, Tim McKinlay, an expert trainer from Wealthy Affiliate, walks you through the entire process of how he chooses a niche and creates affiliate websites from scratch.
You'll get an "over the shoulder" look at how he chooses a high-potential niche, builds a new site, plans the content he'll be creating and how he monetizes the site. The goal of the series is to give you everything you need to model what he's doing to create your own affiliate website.

Affiliate Website Building: Classes in this Series
Class #1:  Selecting a Low-Competition, High-Potential Niche. Choosing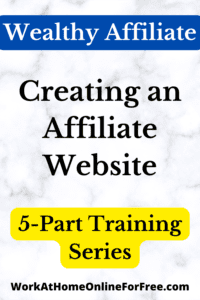 a profitable niche is the first step to create an affiliate website.  In this class, Tim shows you exactly how to choose a high-potential niche.  He'll actually choose the niche in this class and use it for the rest of the training series.
He'll also give you some insight into why it's so important to choose a good niche, how to differentiate between broad and narrow niches, and how to come up with ideas from scratch, even if you're new at choosing a niche.
Class #2:  Branding and Building Your Site Using SiteBuilder.  Now it's time to get your affiliate website up and running.  Tim will show you how he comes up with brand/site name ideas and how to register a domain name using SiteDomains.  Then, he'll show you how to choose a theme and build your site using Wealthy Affiliate's SiteBuilder platform.
And finally, he'll walk you through setting up the foundational elements of your site so that you'll have a fully functioning website that's ready for you to build out by the end of the class.
Class #3:  Architecting Success with Winning Content Ideas. Creating content is the most important thing you need to focus on if your goal is to create a profitable affiliate website.  There's no point wasting time writing just for the sake of writing.  You need to create content on the right topics.
Tim will show you how he determines what his site is going to be about and what topics he'll be writing about in the coming days, weeks and months ahead.  He'll also show you how he separates his ideas into different categories and how he records his ideas using a simple Content Plan that he creates using Google Sheets.
Class #4:  Keywords & Content: The KEY Ingredients for Endless Quality (Free) Traffic.  Now you've chosen a niche, built your site, and created a Content Plan to give you a broad idea of what you'll be writing about going forward.  In this class, Tim will go deeper into the keyword research process.  He'll show you how he vets his ideas effectively, and how he adds his chosen keywords to the Content Plan.  That way, he knows exactly what to write about to get quality, free traffic to the site.
Tim will also show you exactly how he approaches the content creation process to create the best content in the most efficient way possible.
Class #5:  Monetize Your Site with Compelling Affiliate Offers.  Most people think they need to focus on the "making money" aspect of affiliate marketing first.  But this is actually the last step in the process, and for a very good reason.  Once you get the site set up and traffic coming in, the money part is simple.
In this class, Tim will walk you through how to monetize your website.  He'll show you how to select the best affiliate offers for your niche, give you an overview of the different types of "money pages" he creates to promote affiliate offers and how to maximize your site's revenue potential.
He'll also show you why it's worth running ads on your site, the best ad networks to join, and how to put the ads on your site.  This way, you can have a mix of both affiliate offers and ads on your site, which is an effective way of earning revenue.

About Wealthy Affiliate
Wealthy Affiliate has an enormous amount of training available for affiliate marketers and people who work online or want to have their own online business.  You can read my full review of Wealthy Affiliate HERE.
How Much Does Wealthy Affiliate Cost?
Wealthy Affiliate offers a Free Starter Membership that includes 10 free classes, a free website, and free website hosting.  This is how I started.  The 10 free classes are:
Understanding How to Make Money Online
Building Your Own Niche Website (follow this link to take this class right now!)
How to Create Website Content Getting Your Website Ready for Search Engines
Creating Custom Menus on Your Website
Understanding Keyword Research
How to Write Product Reviews
Finding Your Target Audience
Choosing a Niche
Free WordPress Tutorial
Wealthy Affiliate's Premium Membership
Once you complete the classes in the Free Starter Membership, you can upgrade to the Premium Membership for $19 for your first month, and $49 per month thereafter.  (You can cancel anytime).  For a complete overview of everything included in the Premium Membership, read my review HERE.  
They also have an advanced Premium Plus Membership, that includes more advanced training ($99 per month).  Both the Premium and the Premium Plus Memberships offer a significant discount if you purchase an annual membership.
To compare and sign up for the Free, Premium or Premium Plus Memberships, click HERE.
This is How I Started
I joined Wealthy Affiliate's Free Starter Membership back in 2015 to learn how to do affiliate marketing.  As of the date of this post, it's been seven years and I'm still doing it.  I chose to do affiliate marketing as my full-time job, but you can certainly do it as a part-time online business or side hustle to earn extra money.
Regardless, the training at Wealthy Affiliate will show you how to be successful.  Please feel free to comment below with questions, and let me know if there's another specific topic you'd like training on. Debra
Please follow and like us: