Below you'll see a video that includes a step-by-step guide on how to use SEMRush.  The best way to follow along with the video tutorial is to go ahead and open SEMRush.  With it in front of you, you can try out the different features discussed in the video as we go along.  Click the button below to open SEMRush.  You'll be able to see even more results during the tutorial if you sign up for the free trial.
OK, Let's Get Started!
If you're looking for a specific topic, here are the different topics covered in the video, and their exact position in the video:
Your site overview (1:26)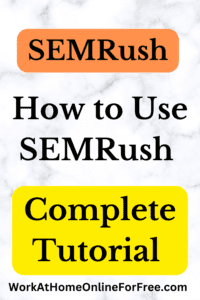 How to find your top organic competitors (4:32)
Determining your competitor's strategy (7:55)
Finding the competitor's top performing content (10:41)
How to find the best long tail keywords to rank for (15:06)
Side-by-side domain comparison (18:52)
Determining keyword difficulty (& the SEO Magic tool) (21:04)
Monitoring changes in search engine ranking positions (23:21)
How to find good backlink sources (25:43)
How to perform a website audit (30:47)
Position tracking & SEO optimization tips (33:21)
Creating charts for quick comparisons & SEO reports (37:00)
How to create branded SEO reports (39:32)
SEMRush Review
SEMRush also tackles a number of topics that were not covered in the video, including:
Video ad campaigns
Paid advertising analysis
Finding the ad variations your competitors are using
Finding your competitors' best performing ads
Tracking down potential advertisers
Benefits of SEMRush
It's easy to see just how much SEMRush can help you in your SEO campaigns and how much time, effort and money you can save by not having to do these tasks manually.  I hope you enjoyed this comprehensive review of SEMRush and it's fantastic tools and features!  Debra
Plans & Prices
SEMRush has the free trial you signed up for before watching the video.  You can view their plans and prices by clicking below.
Please follow and like us: