I've been working from home since 2008.  I started with an Ebay business, which I did fairly well with for several years.  Then, in 2015, I got into affiliate marketing and I've been doing that full time ever since.  If you've decided you'd like to work from home, I think it's important that you find something that you actually enjoy.  So in this article, I'll tell you how I got training to start an online business from a company who taught me how to work from home and love it!
How to Work From Home and Love It
I got training to be an affiliate marketer from a company called Wealthy Affiliate.  Affiliate marketing is where you have websites that make money.  You create a website around a certain topic, then become an affiliate for various products, services and companies having to do with that topic.  Then you create content, in the form of articles, blog posts and/or videos all about that topic.  Inside that content, you promote the products and services you're an affiliate for.  And you earn commission.
That's a super simplistic explanation of what affiliate marketing actually is, but for the purposes of today's article, I think you get the idea.  I'll tell you more about their training later in this article.
I Love Working from Home
I have two websites I work on every week.  The one you're on right now, where I promote Wealthy Affiliate and teach people how to do affiliate marketing, plus a second website which is all about the care, support, health and training of dogs and cats.  I love both topics.
So every day when I'm creating content for these websites, I actually enjoy it.  These are topics I'm personally interested in, so I actually find the work interesting and enjoyable.
I recently wrote an article, plus made a complete video, all about what I actually do every day in this job.  You can read my article, Affiliate Marketing Job Description – What I Do Every Day as an Affiliate Marketer, and watch my video below to find out exactly what I do every day.
The Best Things About Working from Home
Some of the obvious reasons I love working from home are being able to set my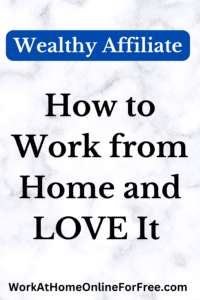 own hours, be my own boss, and stay at
hom
e and be out of the rat race of working a regular job.  But there are other benefits people sometimes don't think about such as:
Flexible schedule.  This is my favorite thing about working from home. I like the fact, for example, that I can do my grocery shopping on a Tuesday afternoon when there's hardly anybody in the store.  Same goes for dentist and doctor appointments, car repairs, or any other errands.  It's so much easier to do that stuff in the middle of the day when everyone else is at work, instead of trying to do it on Saturday mornings.
Tax benefits.  When you work from home, pretty much everything you do is a write-off.  Your house payments, utility bills, property taxes, phone and internet bills.  Virtually anything it takes to have a home in which to work represents a tax benefit.
Unlimited income potential.  When you work from home online, the sky really is the limit as far as your income.  You can scale your business over and over again, and very realistically make six figures and beyond within a few years.
More time with friends and family.  Because affiliate marketing only requires part-time hours (I generally work 20-25 hours per week), I have more free time.  I spend way more time doing fun stuff with family and friends than I did when I worked a full time J.O.B.
I can work from anywhere.  Because my whole business consists of a laptop, an internet connection and a notebook, I can literally work from anywhere.  This allows me to travel as I please and live virtually anywhere I want.
No office politics (aka taking crap from bosses and co-workers.)  This is one of my favorite parts about working from home.  I love that I get to sit here quietly, by myself, in my own home to do my work.  Other than occasionally putting too much pressure on myself to achieve my own goals, I don't have to take any crap from anybody.  LOL  I love that.
I control my days off.  Obviously, when you have a regular job, you can only take as many vacation days as they give you, and only when they say you can take them.  Even when I had my Ebay business those few years, the workload was so huge that I could barely take a day off.  Now that I'm working from home online, I can schedule my time off as I please.
I could go on to list many other things I love about working from home.  But those are just a few of my favorites.
So how can you do what I do?
Making Money at Affiliate Marketing
Wealthy Affiliate has a Free Starter Membership that includes to free, step-by-step video classes on how to choose a topic, create a website, how to create content, and how to become an affiliate for products so you can earn money.  The Free Starter Membership includes 20 free classes, 24/7 support, one free website, 50+ training modules, and 2 training classrooms, plus the ability to earn commissions for referring people to Wealthy Affiliate.
The First Ten Classes Included in the Free Starter Membership
Free Starter Program Classes
Lesson 1:  Getting Rolling!
Lesson 2:  Understanding How to Make Money Online
Lesson 3:  Choosing a Niche
Lesson 4:  Building Your Own Niche Website
Lesson 5:  Setting Up Your Website
Lesson 6:  Getting Your Website Ready for Search Engines
Lesson 7:  Creating Your Initial Website Content
Lesson 8:  Creating Custom Menus on Your Website
Lesson 9:  Understanding Keywords – the Start of Your Business
Lesson 10:  Congratulations and Your Next Steps

Wealthy Affiliate's Premium Membership
If you decide you like this job and would like to continue your training, you can upgrade to the Premium Membership.  This includes 100+ additional classes, unlimited support, weekly live training webinars, 1000+ training modules, up to 10 websites (including your own domains), 13 training classrooms, free access to Jaaxy (a keyword research tool that normally costs $49 per month).
You also get double commissions for referring people to Wealthy Affiliate – $19 for the first month, then $49 per month thereafter.  Or you can save money by purchasing a full year's membership for $495 (results in about two months free).

How to Work from Home
I hope this has helped!  My recommendation to work from home and actually love what you're doing is to go ahead and start the Free Starter Membership at Wealthy Affiliate.  They'll help you choose a topic and show you how to make a website that makes money.
You'll be able to stay at home and build your own online business around a topic you actually love.  The first ten classes are free, so there's no risk in trying it.  If you decide to join Wealthy Affiliate, you'll see me in there.  I'll be the first one to welcome you, and please feel free to reach out to me there whenever you need help or have questions.  I'm happy to help.  Debra 🙂

For More About Making Money Online, CLICK HERE
Please follow and like us: